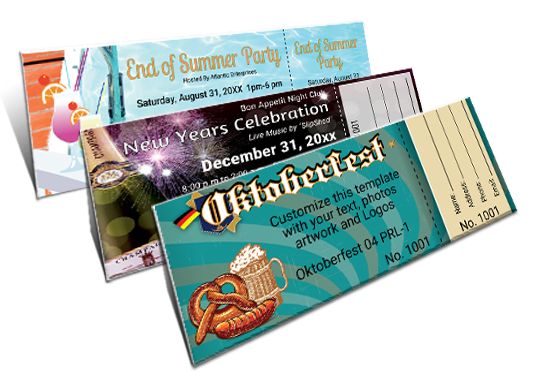 Vibrant, full color tickets are available in a wide array of sizes, papers and styles at BestTicketPrinting.com. Our custom ticket printing delivers high quality full-color tickets at amazingly affordable prices. Our exceptionally fast turn-around means that you will have your tickets on time. Most orders ship out the same business day that the order is received.
Full-color event tickets printing can get people charged up about your event! Our tickets are a great value for large scale concerts, theatrical performances and professional or college sporting events, as well as small scale events such as community plays, school dances or proms, raffles, and fundraisers.
Use the back of your tickets to promote your brand and the event itself, advertise your website and contact information, and display compelling graphics and photos that make people eager to attend your event. Numbering and stubbing tickets is a standard feature. Custom Numbering and Reserved Seating is also available.